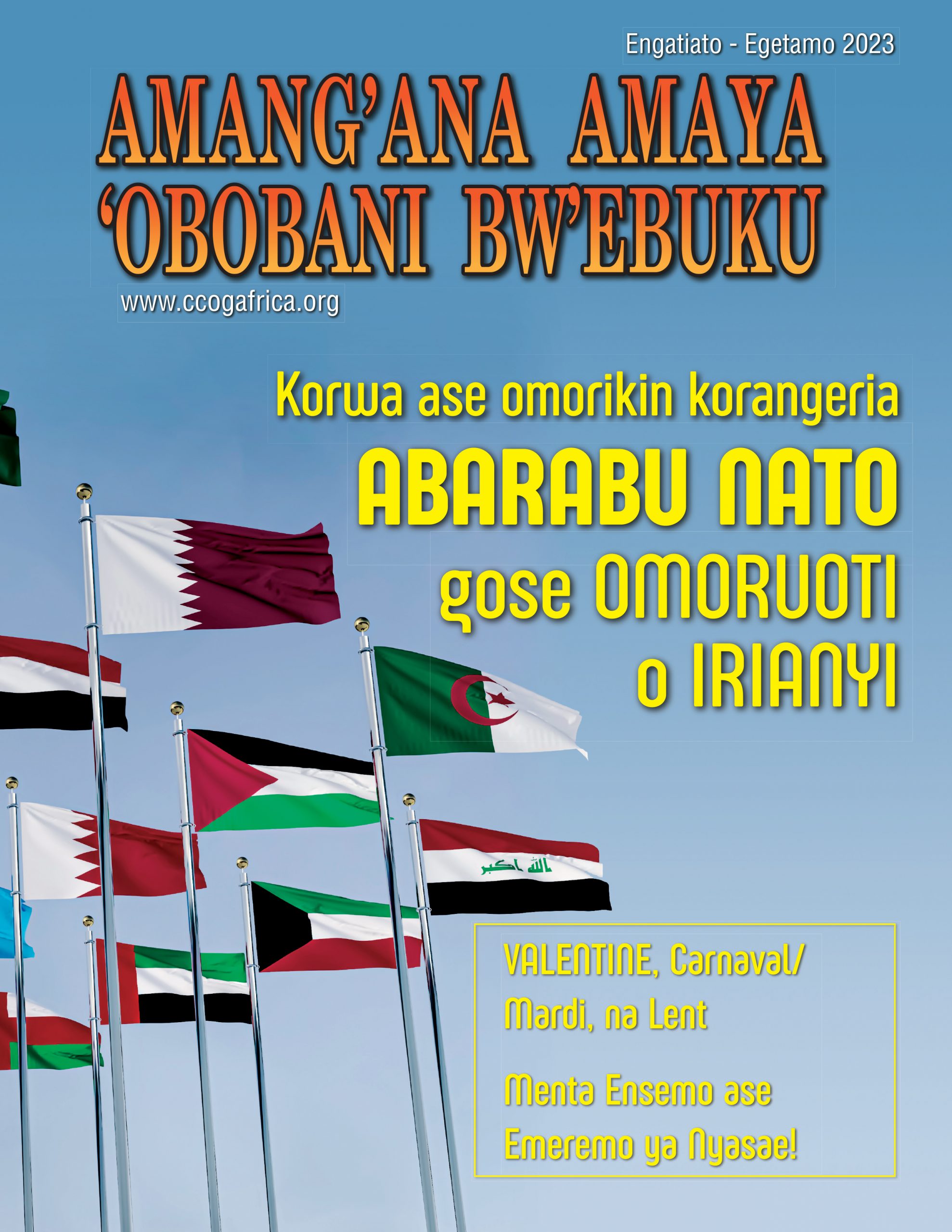 Here is a pdf link to the Kisii edition of BNP magazine: BNP AMANG 'ANA AMAYA 'OBOBANI BW'EBUKU – Engatiato – Egetamo 2023
Ase ring'ana eri:
2 Omoriki: DR. Bob Thiel Gonchora Gocha Ekegegusii: PR. Ezekiel Ombaso Oanda.
Korwa ase omoriki, korangeria Abarabu na NATO gose omoruoti o irianyi? Nebe okobwaterana kw'abaruani be chinse chia moocha ya gati na chinse chia Irianyi ya Afrika?
5 VALENTINE, Carnaval/Mardi, na Lent Nere ng'a abakristo barende na gochengera
amatuko aya?
11 Ebuku na Omogano nigo bikoenekia ng'a Abayahudi tibari korenda rituko r'Epasaka na amorokererio Korwa ase nyagosira Eanest Martin igoro y'ekarenda ebwate amamocho amange ayio Abayahudi barenge gokora.
15 Kweorkereria amang'ana y'Ebuku, Elesen 22b: Konchoka ninki egencho y'okonchoka?
24 Menta ensemo ase emeremo ya Nyasae! Amarokererio korwa ase Richard Sedliacik bw'ekanisa enkoro y'eredio ekanisa ya NYasae.
28 Ebikone bia Yeso – Ensemo ya 6 Omonto orenge Rigata.
30 Amaborio na okoiraneria: Namaene ng'a Samwel narorekanete ase Saulo ekero akure?
Jarida la Nyuma: Tovuti na Radio Hili linaonyesha ni wapi watu wanaweza kuupata ujumbe kutoka Kanisa la Continuing Church of God.
Here is a pdf link to the Kisii edition of BNP magazine: BNP AMANG 'ANA AMAYA 'OBOBANI BW'EBUKU – Engatiato – Egetamo 2023