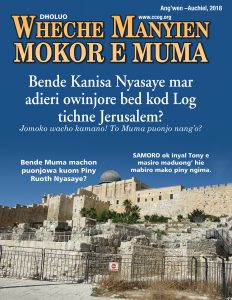 Duond Weche Mokor. Bironu e yo machalo kama.
Bende Kanisa Nyasaye mar adieri owinjore bed kod Log tichne Jerusalem? Jomoko wacho kamano! To Muma puonjo nang'o?
Somo Muma e Lesson mar 13:Ang'o ma Jo Kristo biro yudo kaka gikeni? Osinginegi Piny mabiro koso polo?
Bende Muma machon puonjowa kuom Piny Ruoth Nyasaye? To bende Jo-Kristo endalo machon bende nong'eyo wach mar Piny Ruoth Nyasaye e Muma mar Jo -Hibrania?
SAMORO ok inyal Tony e masiro maduong' hie mabiro mako piny ngima. Manosenindo, Jayalo Leroy Jeff nopuonjowachno higni 50 mokalo. Puonjni owinjore kodwa nikech wachiegni gi ndalo mag giko.
Here is a pdf link to the Luo edition of BNP magazine of the Continuing Church of God: BNPApr-Jun2018 – LUO – Digital