Rwanda
In late September early October 2022, evangelist Evans Ochieng made his first ever trip to Rwanda. He sent the following photo and report: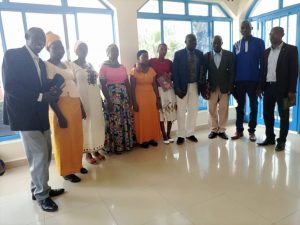 Pastor Dr Bob,

Greetings from Rwanda.

We had a wonderful Sabbath with our few brethren in Rwanda. It was a wonderful Sabbath and the brethren in Rwanda enjoyed the Sabbath of today.

So many people from far did not come.  We only had their leaders.

They were happy to hear that the church is going to be registered in Rwanda.  This was the main problem in Rwanda between the government and church.  None is aloud to hold church meeting without certificate. Again it's a law in Rwanda that you must build a good hall where you are meeting every Sabbath.

So they were in a problem and when the hear that the church is going to be registered,  they were very happy.  …

Evans.
We then had some from Rwanda come to Kenya to observe the Feast of Tabernacles:
Our brethren from Rwanda were very happy. I escorted them up to Kisumu on their way back to Rwanda. I gave them some pens, banner, laptop, different books and song books.
Thank you very much for the great support and good work for the people.

Evans

The group there had a sabbath-keeping background, but did not keep the biblical Holy Days before other than Passover.
Here is a photo of the small Kigali city congregation at home of the leader Moïse Nshimiyimana and an email from him from a few days ago: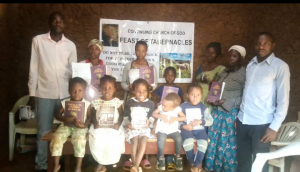 Dear Pastor Dr Bob ,

Thank you for this good news of CCOG worldwide .

I thank God for protect us in trip we had at Kenya for attending Feast of tabernacles last month .

With brethren of Kigali city and Nyagatare district congregations , we are happy for enter in Continuing Church of God official .

Thanks about your continue to support us.

God continue to bless you.

Moïse .
Here is a photo of the brethren in the Nyagatare district congregation: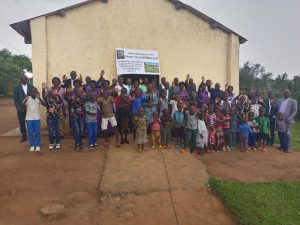 We now have two congregations in Rwanda.
Anyway, after they have asked to become part of the Continuing Church of God, in addition to providing instruction, we began assisting them in getting formal registration, which is required in Rwanda.
There are also with a couple of other groups in Rwanda expressing interest in being with us.
The Bible teaches:
27 Pure and undefiled religion before God and the Father is this: to visit orphans and widows in their trouble, and to keep oneself unspotted from the world. (James 1:27)

14 What does it profit, my brethren, if someone says he has faith but does not have works? Can faith save him? 15 If a brother or sister is naked and destitute of daily food, 16 and one of you says to them, "Depart in peace, be warmed and filled," but you do not give them the things which are needed for the body, what does it profit? 17 Thus also faith by itself, if it does not have works, is dead.

18 But someone will say, "You have faith, and I have works." Show me your faith without your works, and I will show you my faith by my works. 19 You believe that there is one God. You do well. Even the demons believe — and tremble! 20 But do you want to know, O foolish man, that faith without works is dead? (James 2:14-20)
Hungry widows and orphans are afflicted–and we are assisting.
We are now in the process of getting the Continuing Church of God registered in Rwanda. We are also looking at getting materials translated into the main tribal language there as well. A "great door" (1 Corinthians 16:9) seems to be opened for us (cf. Revelation 3:8) now in Rwanda–and we are working to go through it to fulfill Jesus' words in Matthew 24:14 and 28:19-20.
Furthermore, Moïse Nshimiyimana, our leader in Rwanda just came back from a trip in January 2023 to the Congo where we are also in the process of establishing new congregations.
We have two groups and are in the process of registering the CCOG in this nation.
Our local contact is:
Moise Nshimiyimana

Phone number+250788415438

P.o box 2493

Kigali