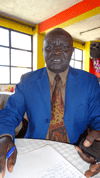 Evangelist Ochieng
Just got the following email from CCOG Evangelist Evan Ochieng:
Pastor Dr Bob.

Greetings from Kenya.

Since we came back from the conference, I have been getting so many good reports and requests from all parts of Africa. So many people are interested in truth a

nd needs to join CCOG. I have noticed that the work is still expanding and catches most parts of Africa. I also received many calls from all parts in Kenya. Since then I am busy talking with new people who are visiting our website and are having interest in CCOG. I am planning to meet them and I promised them that I will visit them after passover. This is because I will travel to Tanzania before passover to meet our minister Martin Wanga and Andrew. I will also meet brethren from Rift Valley and kisii before passover. So I will be totally busy that I can't meet them before passover.

I am also very happy with the reports that I received from Malawi and Mozambique. I am getting some good reports from Mulozoswa. We will visit Malawi and Mozambique after passover and Unleavened bread.

I want to print out the magazines before passover so that I can take some to Tanzania. Especially the Swahili and Luo magazines.

Evans
The conference the Continuing Church of God had in Nairobi continues to bear fruit. Information on that conference can be found in the article: Africa Conference 2017.